A large yearbook needs to be easy to navigate. Page numbers and topic sections provide structure and a system for your book. A contents page or table of contents can then inform the reader where each section is located.
The contents page is typically on Page 1 of the yearbook. Each section title can be broad but should be easy to understand. Here are 15 designs from our clients' yearbooks to help make navigation easier!
Contents Page Designs
1. St Oran's College 2016 Yearbook
This yearbook contents page uses colour in a simple way to group different sections.
2. ACG Sunderland 2018 Yearbook
Layered, semi-translucent angled lines bring energy and movement to the page.
3. ACG Strathallan 2020 Yearbook
Incorporate student art into your contents page for a simple, pretty look.
4. Somerville Intermediate School 2019 Yearbook
This simple wave design is proof that a yearbook contents page doesn't need to be complicated to look good.
5. St Mary's College 2019 Yearbook
Here is a bold yearbook contents page with a landscape layout!
6. Long Bay College 2018 Yearbook
Try white text on a dark background for something a bit different.
7. Glendowie College 2018 Yearbook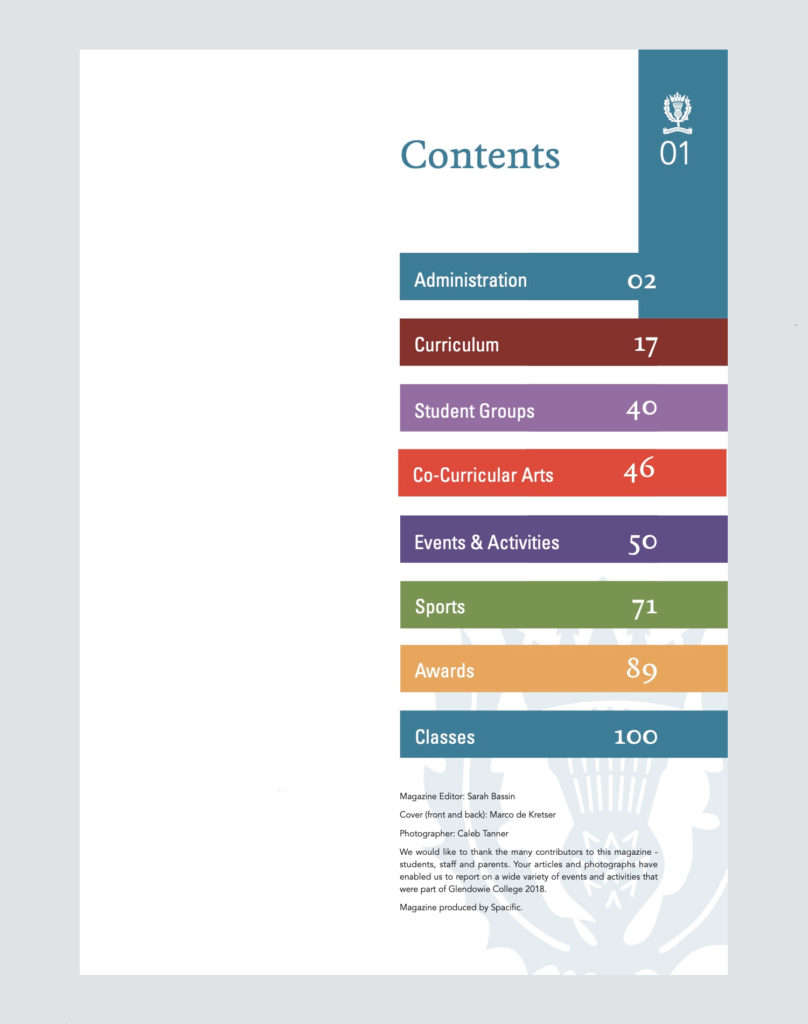 Simple categories with lots of white space looks sophisticated and professional.
8. ACG Parnell 2020 Yearbook
This design uses different coloured triangles for a modern, confident page.
9. Farm Cove Intermediate 2016 Yearbook
Add texture to your page with a photo-realistic background.
10. Long Bay College 2017 Yearbook
Include some school photos on your contents page!
11. ACG Strathallan 2017 Yearbook
Colours and patterns are layered in this yearbook for a truly unique look.
12. St Kentigern College 2019 Yearbook
This design is balanced horizontally, with an image on one side and the contents categories on the other.
13. Kristin School 2020 Yearbook
Stick to your school colours and use shades with similar hues for a calming effect.
14. Diocesan School for Girls 2020 Yearbook
Here is an unconventional layout that uses photos for each category.
15. Long Bay College 2020 Yearbook
This contents page includes layered semi-translucent colour blocks and a pretty script font.